Booking your Driving Lessons.
---
If you are looking to pass your driving test …
'Learn the bay way'

Driving Lessons start from only: Block of 10 Lessons £34 per hour. £35 per hour for students in full time education. £36 per hour if you are in employment. So call today FREE on 08000 30 50 68 to Start Driving Now! Bay School of Motoring offer a 'door to door' service throughout the Torbay & South Hams areas, including: Torquay, Paignton, Brixham, Marldon, Totnes, Kingswear & Dartmouth – so you will always get the most out of your Driving Lessons. We ensure driver training is a relaxed and enjoyable experience. With our instructors taking time to get to know you so they can tailor the lessons to help you develop your Driving Skills, enabling you to pass your test. If you are 17 or over, no matter how old or how young, from your first lesson through to completing your test, Bay school of Motoring will always be there to offer friendly and helpful advice.

How do I book my lessons ? Just fill in our enquiry form here to book your lessons on line now and we will call you to arrange your lesson. You can also book lessons by calling Bay School of Motoring direct. Call FREE now on: 08000 30 50 68.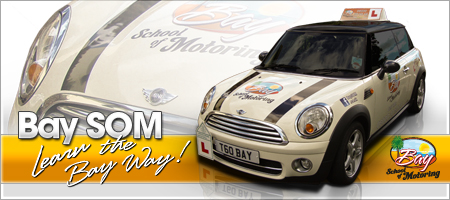 Back to the top of the page »